Bayer Worldwide
Bayer: An Internationally Operating Company
Bayer employees around the world work with great passion to find solutions to the fundamental challenges of a constantly growing and aging world population. Bayer is represented in 83 countries with a total of 99,637 employees (2021). Find out more about our activities in the various regions of the world and visit the websites of the individual countries for local information.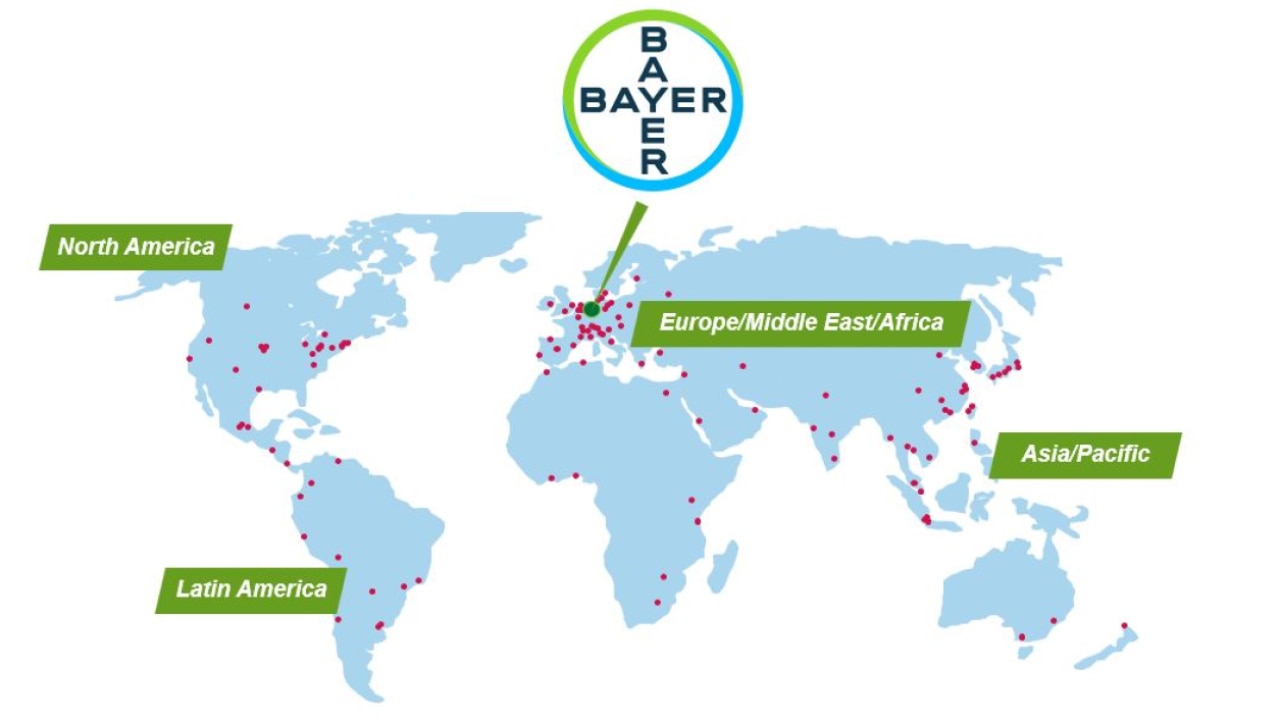 Asia / Pacific: Important Growth Market
With its tremendous growth potential, this economic region is one of the most important markets of the future. In 2021 Bayer generated €8.8 billion in sales here with 21,448 employees.
Bayer Websites in Asia / Pacific
Asia/Pacific
Europe / Middle East / Africa: From Leverkusen to Cape Town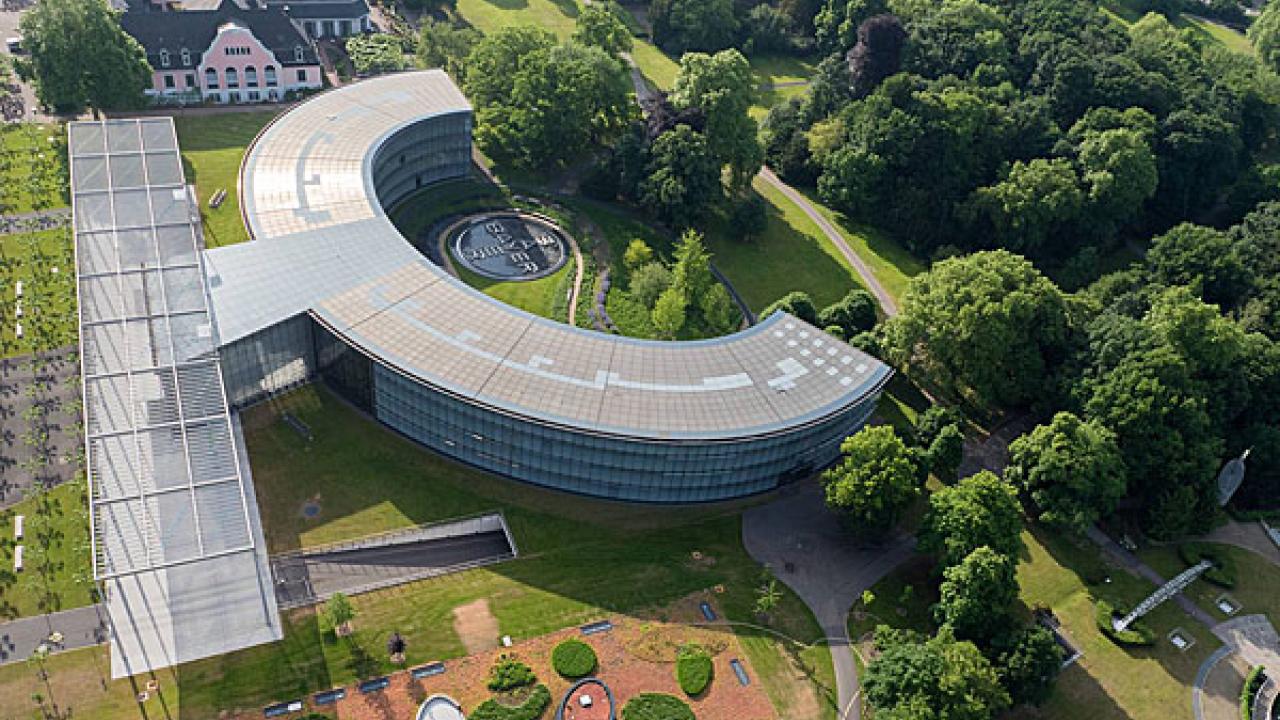 In 2021 Bayer achieved sales of approximately €13.6 billion in the Europe, Middle East and Africa region. Numerous major production facilities and 44,309 employees (of whom 23,116 are based in Germany) give the company a strong presence in this region.
Bayer Websites in Europe / Middle East / Africa
Europe/Middle East/Africa
North America: Opening up New Markets from Coast to Coast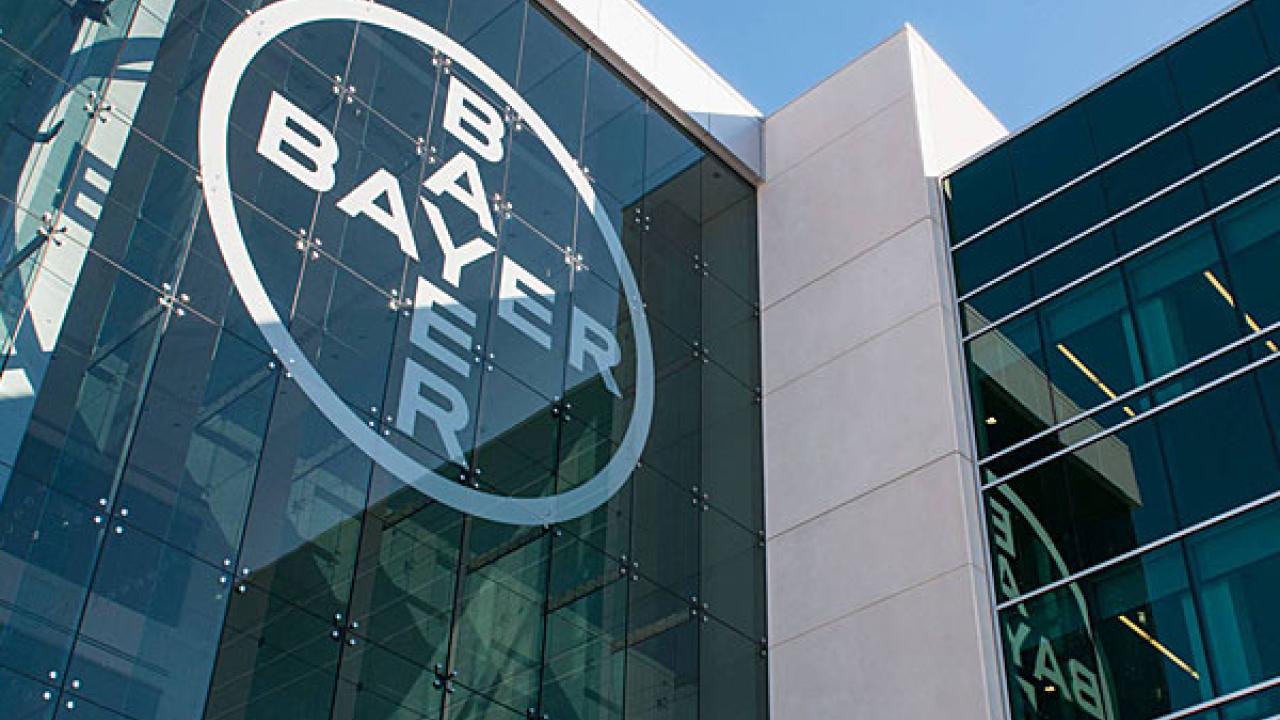 In North America (United States and Canada), Bayer is represented in all strategic business areas. In 2021 Bayer's 19,515 employees in this region generated sales of approximately €14.9 billion.
Latin America: Growth Market of the Agricultural Industry
Bayer has been present in Latin America for more than 120 years. In 2021 the company's 14.365 employees in Latin America generated around €6.6 billion in sales.
Bayer Websites in Latin America
Latin America
Employee Data by Region 2021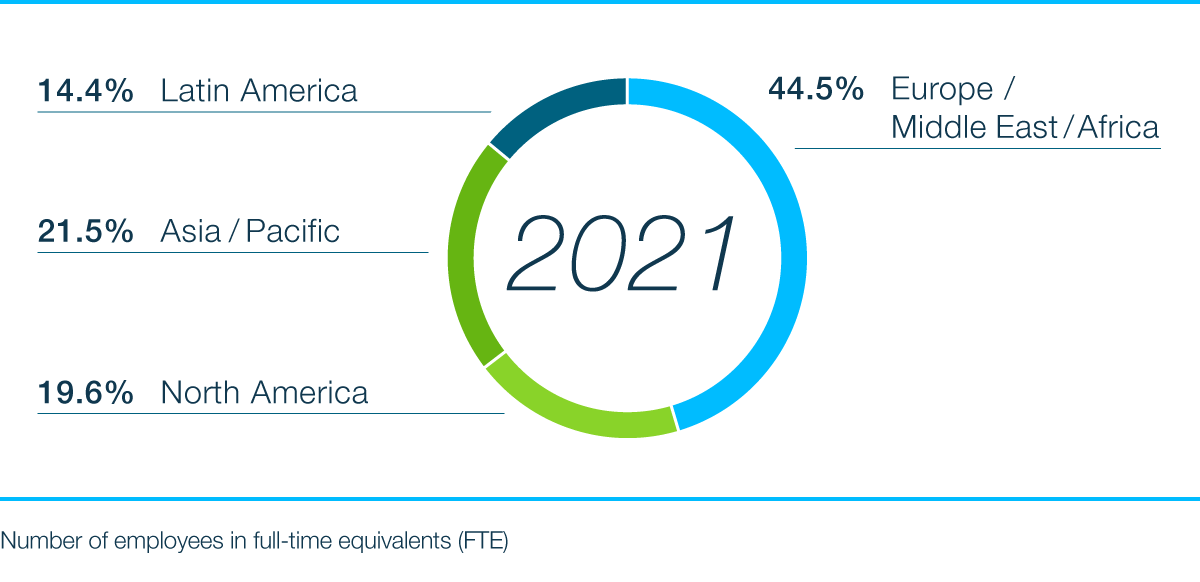 Contact
Bayer Worldwide
- Bayer Global
- Albania
- Algeria
- Angola
- Argentina
- Australia
- Austria
- Bahrain
- Bangladesh
- Bayer Headquarters
- Belarus
- Belgium
- Bolivia
- Bosnia and Herzegovina
- Brazil
- Bulgaria
- Canada
- Chile
- China
- Colombia
- Costa Rica
- Croatia
- Cuba
- Cyprus
- Czech Republic
- Denmark
- Dominican Republic
- Ecuador
- Egypt
- El Salvador
- Estonia
- Ethiopia
- Finland
- France
- Germany
- Greece
- Guatemala
- Honduras
- Hong Kong, China
- Hungary
- India
- Indonesia
- Iran
- Iraq
- Ireland, Republic of
- Israel
- Italy
- Japan
- Jordan
- Kazakhstan
- Kenya
- Korea
- Kuwait
- Latvia
- Lebanon
- Libya
- Lithuania
- Malawi
- Malaysia
- Mexico
- Morocco
- Mozambique
- Netherlands
- New Zealand
- Nicaragua
- North Macedonia
- Norway
- Oman
- Pakistan
- Palestinian Authority
- Panama
- Paraguay
- Peru
- Philippines
- Poland
- Portugal
- Qatar
- Romania
- Russia
- Saudi Arabia
- Serbia
- Singapore
- Slovakia
- Slovenia
- South Africa
- Spain
- Sri Lanka
- Sudan
- Sweden
- Switzerland
- Syria
- Taiwan, China
- Tanzania
- Thailand
- Tunisia
- Turkey
- USA
- Ukraine
- United Arab Emirates
- United Kingdom
- Uruguay
- Venezuela
- Vietnam
- Yemen
- Zambia
- Zimbabwe