Shadehouse Usage in Agriculture
As one of the largest contributors to Hawaii's agriculture industry, the ability to protect and conserve the state's natural resources is of the utmost importance to Bayer Hawaii. That is why the farmers at Bayer are constantly innovating and implementing new farming practices that help to address some of these critical needs. Among the many sustainable practices currently being implemented, the use of shadehouses or screenhouses are actively helping to contribute to land savings, as well as helping to conserve water and other natural resource at two of Bayer's farms on Oahu and Maui.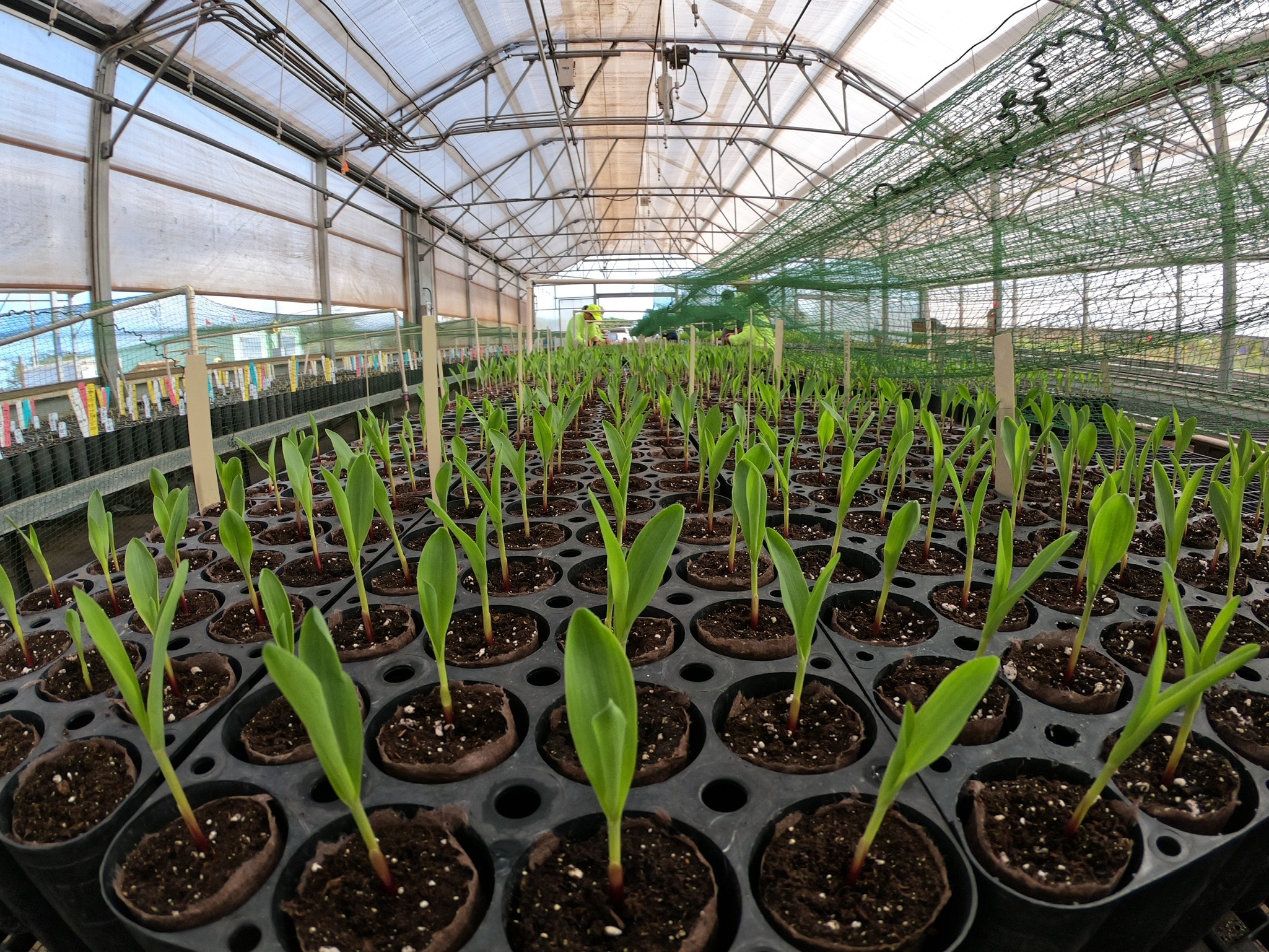 Similar to a gardening greenhouse which is most commonly used to help regulate climatic conditions to grow plants and flowers year round, shadehouses and screenhouses also regulate growing conditions by reducing insect pressure, increasing growing degree units, controlling irrigation, and more. Ultimately, these tools help to protect the plant as much as possible during its biological lifecycle.  
What's the difference? 
A shadehouse is very similar to a greenhouse, except that the roof is made of a clear plastic and the walls are made out of a mesh to allow wind to move through it. Shadehouses have higher germination rates due to reduced exposure to agronomic issues. A screenhouse is made of a mesh material that is specifically designed to exclude insects that would normally feed on crops. Bayer uses shadehouses to germinate its plants before transplanting them to either the screenhouses or to a field roughly two weeks after planting them. Once a crop is transplanted to a screenhouse, it will remain there for the remainder of its life cycle.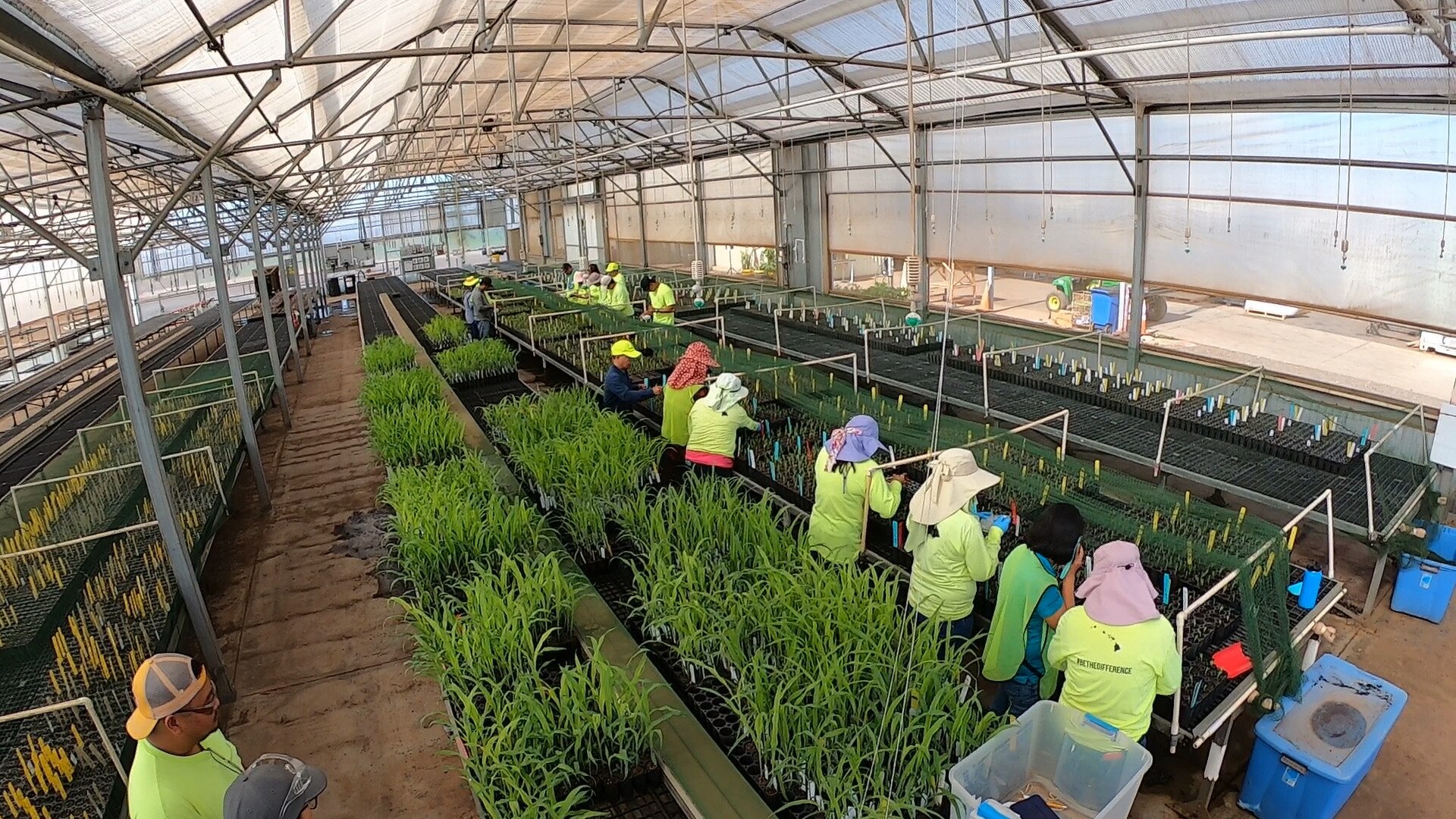 Maui 
Bayer is currently utilizing one shadehouse and three screenhouses for its farming operations on Maui. Built about 12 years ago, the shadehouse is where Bayer starts all of its seedlings. Through automation, the shadehouse is able to provide constant weather readings, including wind, rain and the amount of sunlight.  Based on these readings, the house is able to maintain a specific temperature and the farmers can control the amount of sun that is on the inside by opening and closing vents along the ceiling and walls, as well as robotically pulling shadecloths over if the sunlight is too intense. 
The three 20,000 sq. ft. screenhouses were constructed and put into operation in 2017. The initial purpose for construction of the screenhouses was to move the nurseries out of the fields where the plants were being exposed to the various stresses that are associated with field plantings, including insect pressure, weed pressure, soil inconsistencies and wind.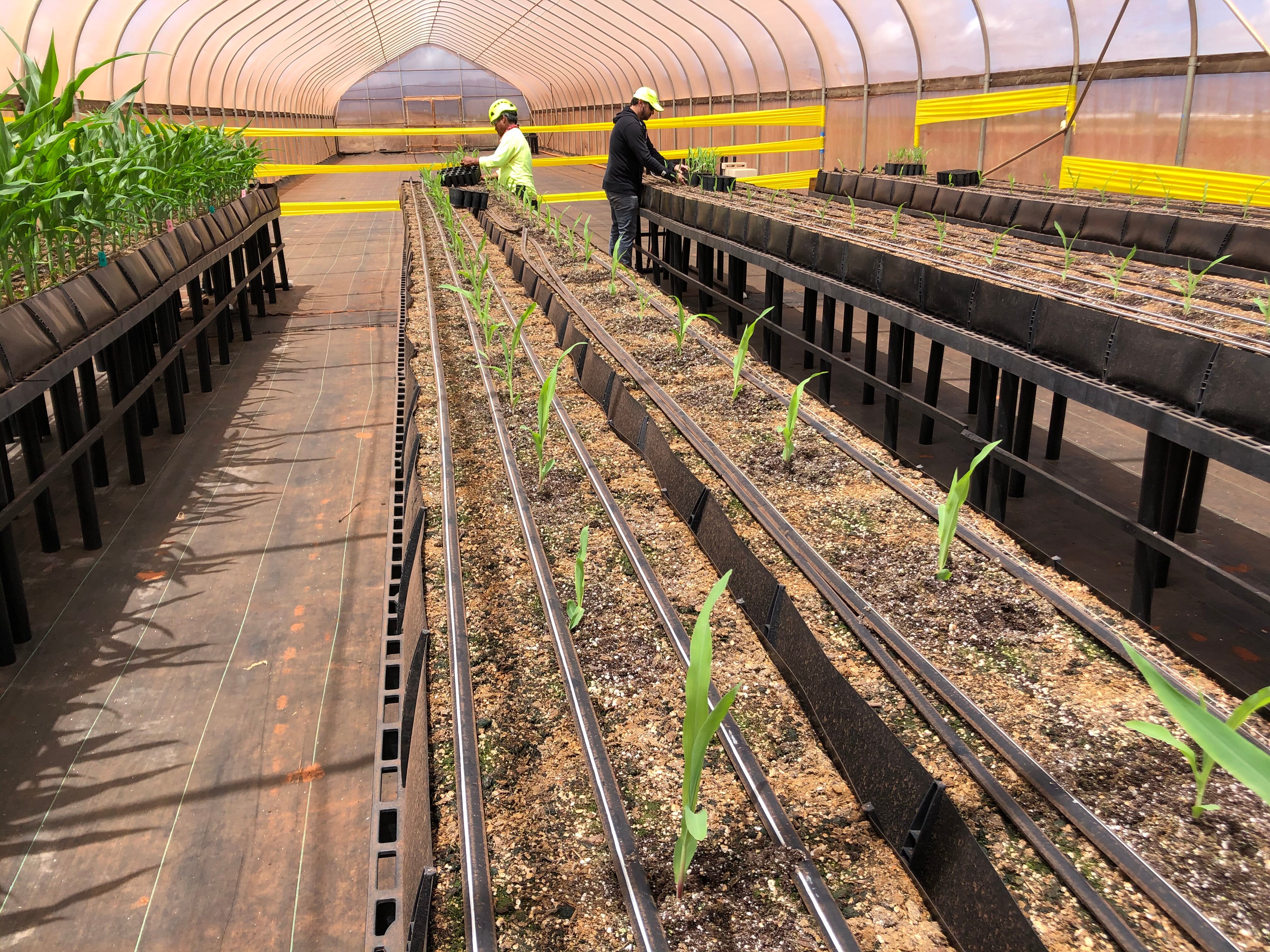 Oahu
At the Kunia farm, Bayer is currently harvesting its first short stature corn from a screenhouse. Among the many benefits, the use of a screenhouse allows the crop to be planted closer together, reducing its natural resource footprint, and helps to reduce crop loss from challenging environmental conditions such as high winds from extreme weather. A big incentive to move the short corn to the screenhouse, was for ergonomic reasons for its employees. Working in the field requires employees to kneel down, sometimes using kneepads to perform work. The elevated benches and planting media located inside the screenhouse allow farmers to stand upright when pollinating and harvesting.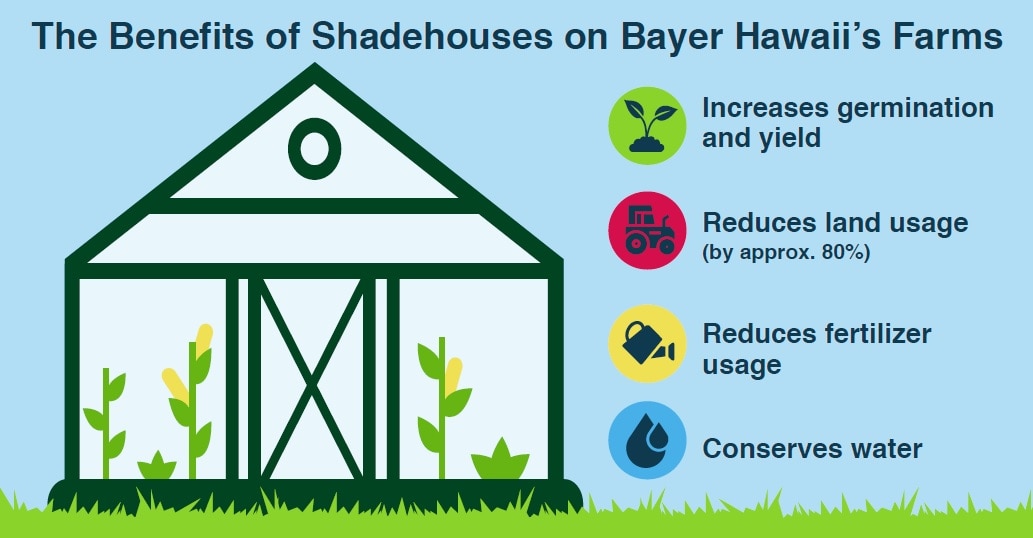 Since Bayer began utilizing screenhouses and shadehouses as part of its farming operations, there has been a 25 percent increase in yield as well as reduction in resources needed to produce crops, including water and fertilizer. Bayer has also been able to reduce its land usage footprint by more than 17 acres or 18 percent.  Based on these results, the company sees great value in the usage of screenhouses and shadehouses and looks forward to expanding these practices across all of its Hawaii farms in the future.