Our Targets to Be Met by 2030
We have defined clear targets for our businesses that we are aiming to achieve by 2030, thereby making a key contribution to meeting the UN SDGs.
To Play Our Part in Improving People's Lives, We Are Intending, by 2030, to ...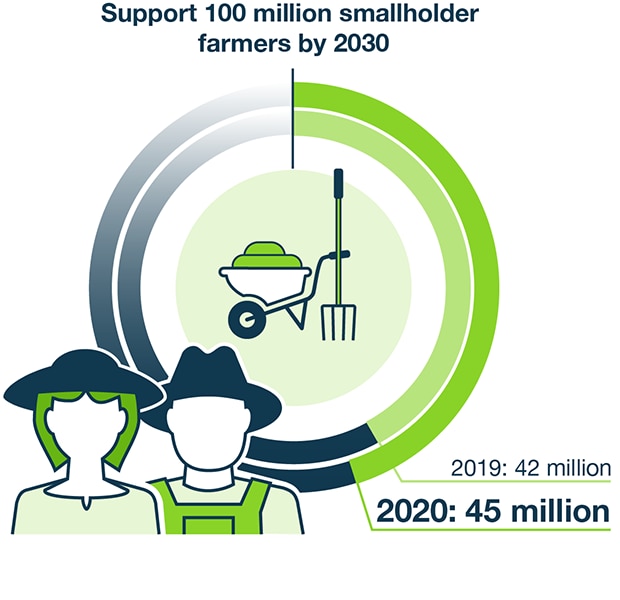 … help 100 million smallholder farmers in low- and middle-income countries to feed themselves and others. Worldwide, there are around 550 million smallholder farms, which provide up to 80 percent of their countries' food supply. Many smallholders, though, can barely earn their own living. We are helping by improving access to knowledge, products and services.
Description of the Methodology (PDF, 260 KB)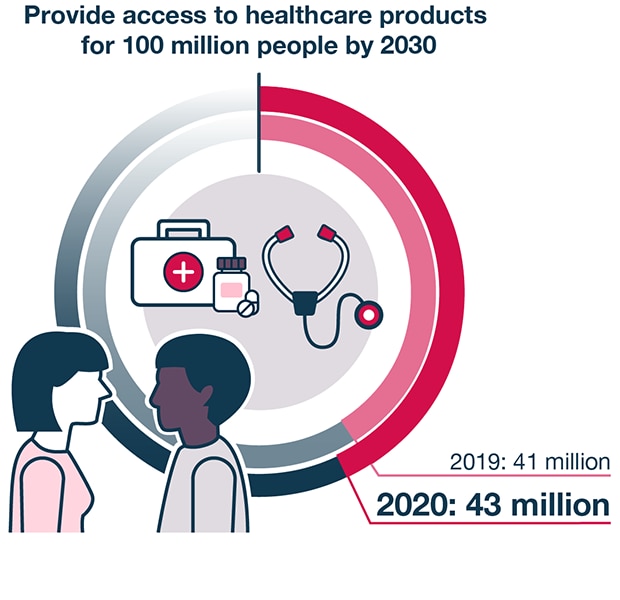 … enable 100 million people in underserved communities to access everyday health. At least half the world's population currently has no access to basic health services, including self-medication products. We want to change this through the availability of appropriate products and education.
Description of the Methodology (PDF, 203 KB)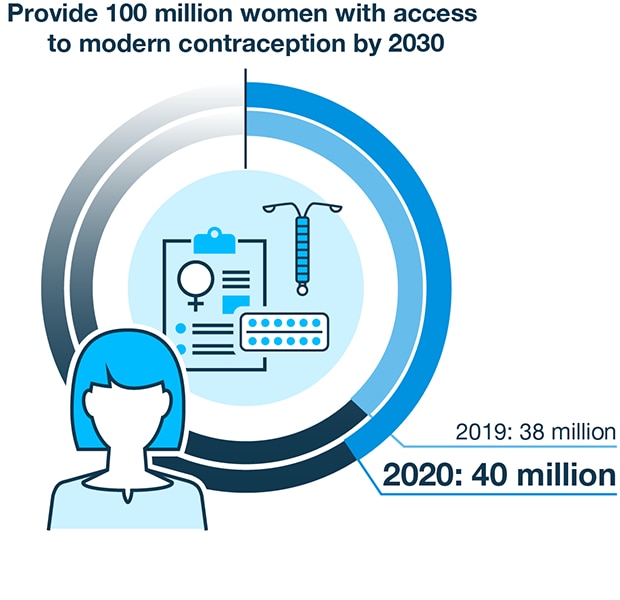 … provide 100 million women in low- and middle-income countries with access to modern contraception. According to the United Nations, gender equality will be a decisive factor for the world's future economic and social development. We want to strengthen the role of women and intensify our efforts in modern family planning.
Description of the Methodology (PDF, 213 KB)
We Are Also Aiming to …
... increase the availability and affordability of our pharmaceutical products in low- and middle-income countries. We will pursue programs for fair pricing and affordability for patients.
… continue our cooperation with the WHO to fight tropical diseases such as African sleeping sickness and Chagas' disease, which typically hit the lowest levels of the income pyramid hardest.
... establish sustainable production and the transition to circular options in our Consumer Health Division to reduce, recycle, reuse and replace.
We Are Reducing Our Ecological Footprint
We support the Paris Climate Agreement, which aims to limit global warming to 1.5 °C or significantly below 2 °C compared with pre-industrial levels. In 2019, as part of our climate program, we therefore included making our own sites climate-neutral in our Group targets to be met by 2030.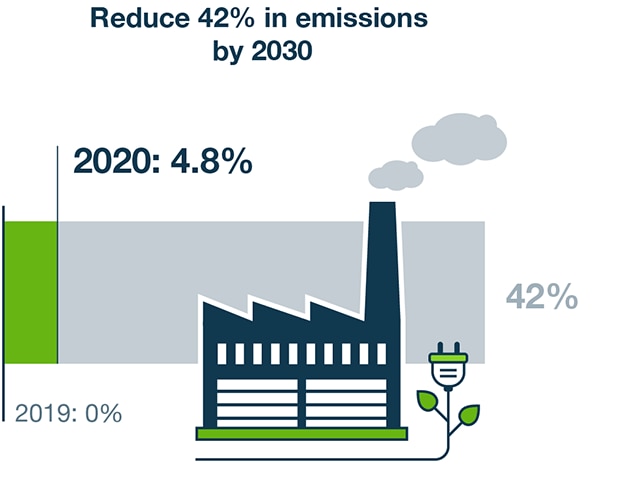 We are looking to achieve this with an absolute reduction of 42 percent in our emissions (scope 1 and 2). The independent Science Based Targets initiative (SBTi) has reviewed the climate protection targets of Bayer AG and confirmed that Bayer is playing its part in limiting global warming to 1.5 °C, in line with the requirements of the Paris Climate Agreement.
To meet this target, we will be implementing a number of measures focusing on energy efficiency, energy sources, offsetting and the value chain. In the period to 2030, we will also be investing EUR 500 million in our own plants to improve energy efficiency.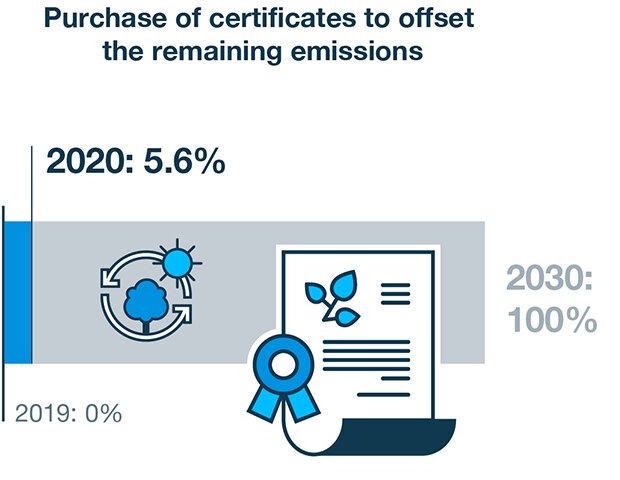 By 2030, the remaining emissions will be fully offset by purchasing certificates from verified climate protection projects, especially in the areas of forest conservation and agriculture. When selecting projects, we pay particular attention to ensuring they enable long-term CO2 capture (permanence) and would not take place without the sale of certificates (additionality). Furthermore, we have introduced additional in-house quality requirements, such as certifying projects according to internationally recognized standards.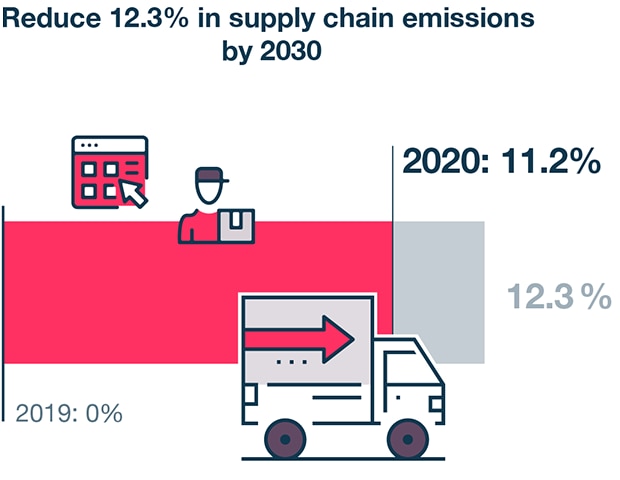 Bayer products and services are also linked to emissions that are generated before and after the company's activities, for instance in the supply chain or by customers (scope 3 emissions). In this case, the SBTi has confirmed that Bayer is helping to limit global warming to a 2 °C scenario, with CO2 emissions to be reduced by at least 12.3 percent in 2029 compared to the 2019 baseline. Given the very large number of suppliers, the 12.3 percent reduction in emissions attributed to the supply chain and/or customers poses a similar challenge to the 42 percent reduction for in-house emissions.
Description of the Methodology (PDF, 317 KB)
We Are Also Aiming to …
... reduce the greenhouse gas footprint of crop production resulting from the cultivation of key crops based on our products by 30 percent by 2030.
... reduce the environmental impact of plant protection products by 30 percent by 2030. Our innovation pipeline will enable farmers to simultaneously increase yields on existing farmland. Digitalization will be a powerful lever in this process. Protecting biodiversity is key to our mission and to the future of agriculture.
Renowned ratings organization CDP (the "Carbon Disclosure Project") has named Bayer among the leading international companies in the climate and water categories, awarding it the highest rating of double "A". Bayer has been included in these rankings since 2005.
You can read more information about our contribution to environmental protection here.
Factoring Measurable Targets into Remuneration
Sustainability targets are being integrated into the company's decision-making processes and also, gradually, into the remuneration systems of the Board of Management and other managerial staff. In 2020, this took place within the framework of the qualitative component of short-term variable cash remuneration, and from 2021 it will be applied quantitatively in the long-term share-based cash remuneration. Also from 2021, target fulfillment – based on the various "100 million" targets and the climate targets reviewed by the SBTi, i.e. our key performance indicators – will have a 20 percent weighting in the long-term management remuneration. In 2020, Bayer thus became one of the first industrial companies in the world to have measurable sustainability targets that carry significant weight in the long-term remuneration of its management staff.