Bayer fully supports human rights and has documented its stance in a globally binding corporate policy entitled the "Bayer Human Rights Policy." We are committed to respecting and fostering human rights within our sphere of influence and to reporting transparently on the results of our activities in this area. We also expect our business partners, and particularly our suppliers, to fully observe human rights. Our LIFE values and our corporate policies on Corporate Compliance and on Fairness and Respect at Work also obligate all employees worldwide to conduct themselves fairly and in a compliant manner in dealings with colleagues, business partners and members of the community.
Management Approach
Sustainability and human rights are among the responsibilities of the Chairman of the Bayer Board of Management. He is supported in his role as Chief Sustainability Officer by the Public Affairs & Sustainability enabling function. The observance of human rights is an integral part of our sustainability management and of our human resources strategy. Directives, processes and management and monitoring systems control the implementation of human rights standards in business operations. We use a Group-wide, integrated risk management system to identify potentially detrimental effects of our business activity on human rights. The Bayer Risk Universe anchored in this system reflects the potential risk categories at Bayer. The Bayer Risk Universe is regularly reviewed and, if necessary, updated. For more information on our risk portfolio, please see the Opportunity and Risk Report in the 2019 Annual Report.
We continually review our processes and activities with respect to human rights.
Implementation Measures
We take measures to observe human rights both internally and within our sphere of influence. Child and forced labor are strictly prohibited at Bayer in accordance with the core labor criteria of the International Labour Organization (ILO). This prohibition is set out in our binding Human Rights Policy and applies Group-wide. In line with the conventions of the ILO, Bayer only offers fixed-term internships, education programs and seasonal employment to young people when this does not impair their safety, health and compulsory school attendance in any way and compliance with the requirements is precisely monitored.
We offer ongoing training programs to enhance employees' awareness of the importance of human rights in their day-to-day activities. Aspects of human rights are also covered in the training offerings and the supplier code of conduct guidance for our suppliers. If there are indications of violations of our Human Rights Policy, employees and members of the general public can contact the worldwide compliance hotline, which is available in numerous national languages. This can also be done anonymously if desired. We verify the observation of human rights at our sites and by our suppliers, including by means of Bayer audits.
Human rights: an interdisciplinary issue
Observing human rights is an interdisciplinary issue that covers wide-ranging areas of influence and processes at Bayer. We report in more detail on our due diligence with respect to human rights in the relevant chapters of our Sustainability Report.
Challenges in Seed Production
The risk of human rights violations in the seed supply chain poses a particular challenge for Bayer. The focus here is on both the work of seasonal laborers and the risk of child labor.
Seasonal labor
Seasonal laborers in the fields have been identified as a high-risk group in terms of human rights. Such laborers are employed directly by Bayer, through employment agencies or by seed producers contracted by Bayer. To ensure the observation of human rights within our sphere of influence, Bayer has developed a four-step, risk-based approach specifically for this high-risk group:
Risk assessment
Training courses
Inspections
Corrective measures
More information about our four-step approach can be found in our Human Rights Chapter in our Sustainability Report.
Combating Child Labor
Our position on child labor is quite clear – it is not tolerated at Bayer. The employment of children in farming represents a high risk outside our own operations. We therefore obligate our suppliers to strictly refrain from employing children.
Through our Child Care Program, Bayer has for years taken systematic action to prevent child labor in the seed supply chain, particularly in India. The program is being established in those countries in which there could be cases of child labor based on our risk assessment. We raise awareness of the issue among our suppliers and clearly communicate our requirements. The Child Care Program involves systematic and repeated inspections of individual seed producers in their fields by Bayer employees during the growing season.
As the majority of the cases of child labor we identified were in India, it is there that we implement most of our measures and inspections. The corporate auditor EY, India, additionally carries out unannounced visits to producers of hybrid cotton seed in four Indian districts. The Child Care Program is also still in place in Bangladesh and the Philippines, as cases of child labor were identified there several years ago. In the cultivation year 2018/19 no cases of child labor were identified in either country. We measure the success of our comprehensive program in India using the indicator "Child Labor Incidence in Relation to the Total Number of Laborers Monitored in Seed Production for Bayer." In 2018/19, we uncovered a total of 28 cases of child labor among our seeds suppliers in India.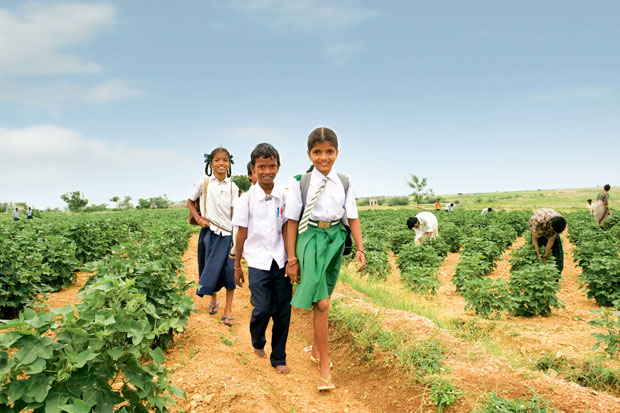 We immediately put a stop to instances of child labor among our contractors and closely track them through the measures related to our Child Care Program. Graduated sanctions are applied for noncompliance by our suppliers. These range from written warnings to termination of the contract in the case of repeated noncompliance. By contrast, suppliers who can verify that they strictly observe our ban on child labor receive a bonus. Thanks to a stringent monitoring system and the support of local information and educational initiatives, there are very few instances of child labor among seed producers.
As school attendance is essential for children's development, Bayer regards this as an effective tool for preventing child labor. We therefore made a point of visiting the parents of children we find working in the fields with the goal of convincing them of the importance of school education. In India, Bayer has established the "Learning for Life" initiative within the Child Care Program, which focuses both on general vocational training and on fostering scientific knowledge. This covers everything from reintegrating children into the regular school system to vocational training measures. Continuously raising awareness about child labor in the agriculture sector requires extensive measures and the involvement of national governments. Bayer continues to advocate the expansion of measures to eradicate child labor and the communication of best practices in seed production. Together with other seed companies, Bayer has therefore joined the Enabling Child and Human Rights with Seed Organizations (ECHO) initiative, the biggest multi-stakeholder forum for the promotion of children's rights and decent work.
Commitment
Bayer is a founding member of the U.N. Global Compact and respects the Universal Declaration of Human Rights. We also support the U.N. Guiding Principles on Business and Human Rights, which provide global standards for preventing and combating possible human rights violations in connection with business activities, and a range of globally recognized declarations applicable for multinational corporations. These include the OECD Guidelines for Multinational Enterprises and the Tripartite Declaration of Principles concerning Multinational Enterprises and Social Policy of the International Labour Organization (ILO), as well as the latter's core labor standards.
We engage in dialogue with other stakeholders on the topic of human rights and actively participate in committees and initiatives established to ensure their observance, such as contributing to discussions on implementing the National Action Plan (NAP) – Business and Human Rights in Germany, in the corresponding working groups of econsense and, in the supply chain, via our Together for Sustainability (TfS) industry initiative and the Pharmaceutical Supply Chain Initiative (PSCI).