Bayer CapSeal & Bayer CapSeal App
In order to help farmers and distributors to distinguish counterfeit from original Bayer crop protection products and seeds, Bayer has developed the CapSeal, a highly sophisticated, interactive safety feature for its products.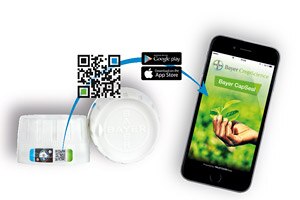 Each CapSeal contains a unique QR-code. Once scanned with the Bayer CapSeal App, the QR code is checked against a database and the user gets immediate feedback regarding the authenticity of the code.

In case the authenticity of the QR code cannot be confirmed doubtless, the user will be warned that the product in hand might not be an authentic Bayer product and is asked to get in contact with Bayer, via just one click on the contact button in the App.
In addition and when applied on bottled products, the CapSeal guarantees the original closing of the product as long as the CapSeal is unbroken.
To download the Bayer CapSeal App please visit: