Our Approach
Improving Sustainability Practices in the Supply Chain
Sustainability in Supplier Management aims to ensure that the way we conduct business with our suppliers is in line with environmental, social and ethical standards. Bayer regards adherence these sustainability standards within the supply chain as a crucial factor in the value chain.
By acting responsibly in collaboration with our suppliers, we aim to minimize risks and create stable, long-term business relationships with our partners. It is also an important strategic lever for Bayer in safeguarding both its global competitiveness and the supply of materials and services. For this reason, the company applies not just economic standards, but also environmental, social and corporate governance (ESG) standards in choosing new suppliers or continuing its relationships with existing ones. These principles are defined in Bayer's Supplier Code of Conduct, which generally forms the basis for our collaboration with suppliers.
To improve sustainability practices within the supply chain we follow a 4-step management process: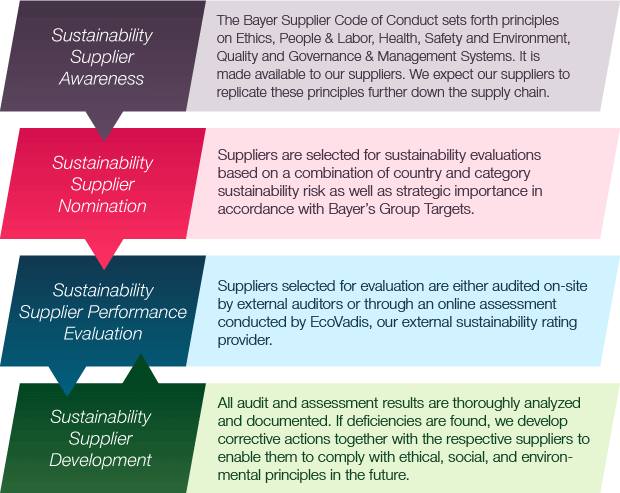 Targets for 2021 and beyond
Bayer verifies the observance of the code principles by our suppliers through online assessments, conducted by EcoVadis, an external provider of sustainability evaluations, or on-site audits by external audit companies. Suppliers are selected for these evaluations according to their strategic importance and a sustainability risk analysis combining country and category risks. We expect that all suppliers fulfill our sustainability expectations, i.e. 'Green' EcoVadis (i.e., ≥45/100) or equivalent sustainability audit result.

In connection with the further development of Bayer's sustainability strategy, we intend to set new priorities within our four-step management process to improve sustainability practices in the supply chain. Our activities aiming at implementing and further developing steps 1–3 will remain in place and continue to serve as the basis for our work. However, we will continue to expand the activities regarding supplier development (step 4). Our goal is to support relevant suppliers and enable them to demonstrate positive successes with regards to their sustainability performance over the long term. In addition, we want to increasingly focus on topics such as CO2 emissions (scope 3) in the supply chain, supplier inclusion & diversity or sustainability evaluations at the tier-2 level.
Since the development of such activities requires time and resources, we have established an interim goal for 2020, which stipulates that all strategically important suppliers must present an EcoVadis assessment of at least 45 of 100 points ("green" assessment) or a comparable audit result. Beginning in 2021, all potential new suppliers with a procurement spend of more than €250,000 will be additionally examined in advance with regard to sustainability aspects.
In 2021, we will work on developing additional KPIs which align with the new sustainability strategy. These KPIs will be based around our broader Procurement Sustainability scope and focus on topics such as supplier inclusion & diversity, human rights as well as dedicated supplier development activities.