125 years of acetylsalicylic acid (ASA)
Celebrating The Anniversary Of The Active Ingredient In Aspirin
Bayer and Aspirin – Acetylsalicylic acid was first synthesized in a pure and shelf-stable form 125 years ago, and millions of people around the globe still count on the best-known pain relief medication in the world. Aspirin is one of the WHO's essential medicines, and it was even taken to the moon – and the journey is far from over.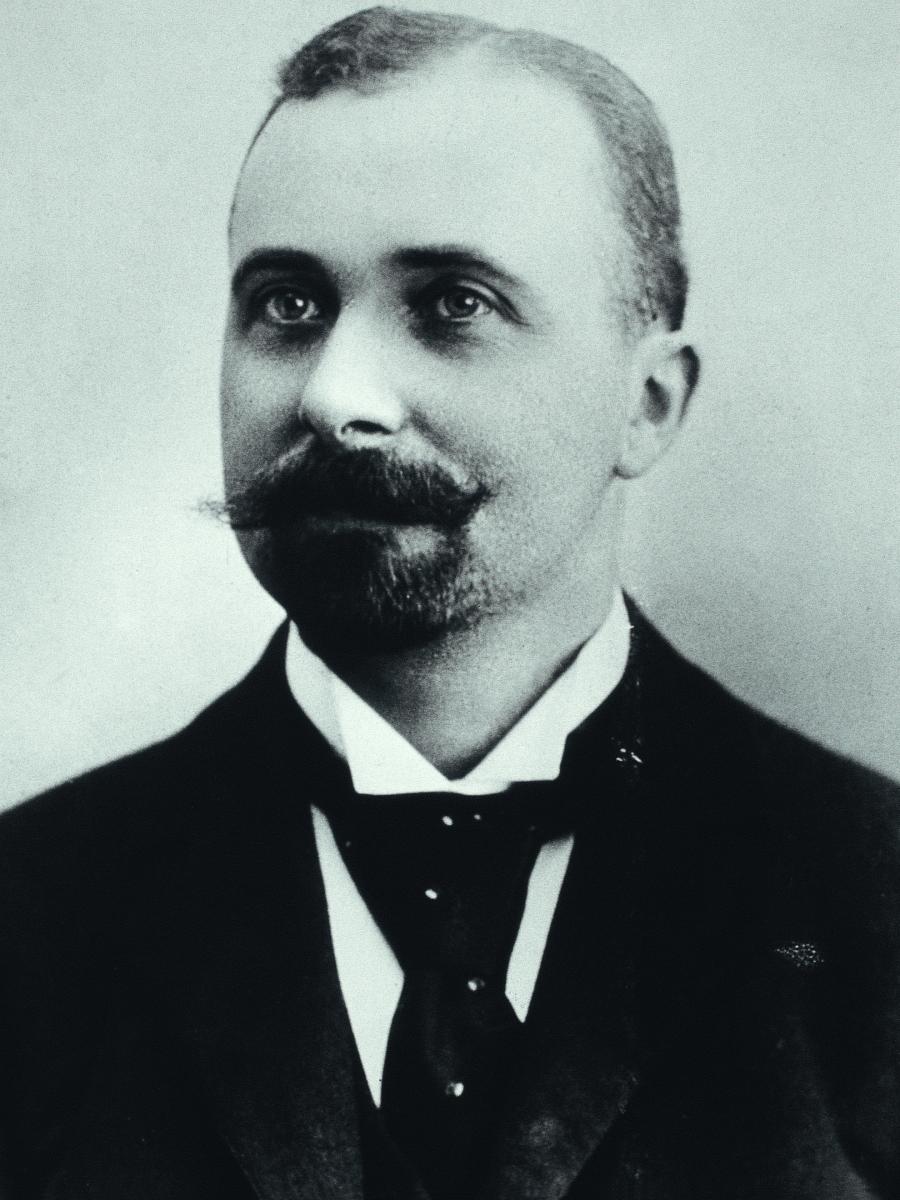 This year, acetylsalicylic acid (ASA), the active ingredient that brought Aspirin to fame, celebrates its 125th anniversary. On August 10, 1897, Dr. Felix Hoffmann discovered the ideal formula for acetylsalicylic acid when he synthesized the first chemically pure and stable form of acetylsalicylic acid.
 
In a lab in Wuppertal-Elberfeld, Germany, the young Bayer chemist succeeded in creating the first pure and shelf-stable formulation of acetylsalicylic acid from salicylic acid, which was in wide use at that time. Salicylic acid, a natural remedy that extracted from various plants, had long been renowned for relieving pain and fevers. Legend has it that Hoffmann's own father was treated with salicylic acid for his arthritis, but like many other patients, he experienced severe side effects.
Even today, Aspirin is still one of the most popular over-the-counter (OTC) products. Recent global surveys on product awareness in the pharmaceutical industry attest to its enduring popularity. In the USA, 60.1 percent of respondents associated the round tablet with Bayer, and in Germany, an impressive 78.8 percent made the association with the company from Leverkusen. That's reason to celebrate!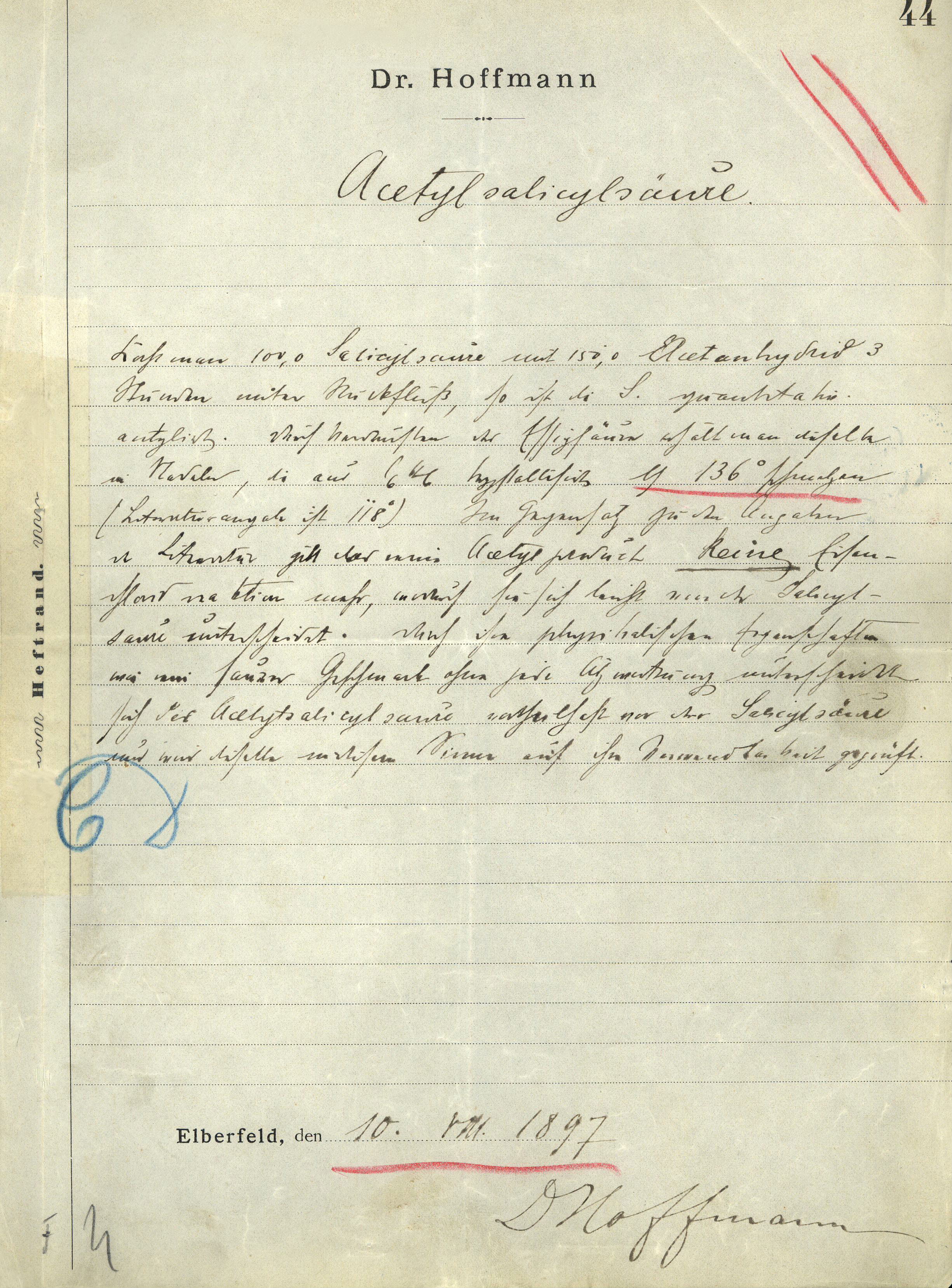 Intent on helping his father, Hoffmann was attempting to use acetic acid to improve the tolerability of salicylic acid. He tried many different synthesis processes until he finally created the first chemically pure and stable form of acetylsalicylic acid, as described in his lab logbook dated August 10, 1897. Hoffmann could not have predicted the importance of what would turn out to be a milestone in medicine.
The young Hoffmann could not have imagined that this substance would become the 20th century's most common active ingredient for therapeutic use, and that it is still just as important even now, as new effects and areas of application are discovered."
Thore Grimm
,
Head of the Bayer Corporate Archives

Hoffmann's breakthrough was entered in the trademark register of the Imperial Patent Office in Berlin in 1899 and received a patent in the USA the following year, and scientists continue to conduct research even to this day on Aspirin, other potential areas of application, and dosage forms. In 1969, the round tablet made its way to the moon with the astronauts in the Apollo 11 capsule.
 
Today, pharmacies stock several different Bayer products that contain ASA in additional to the original tablet form, such as powders or effervescent tablets that dissolve in water. "Aspirin is undoubtedly the tablet of the century. It immediately changed the world of medicine and has been an invaluable ally for pain relief for millions of patients worldwide ever since," explains Iliana Argueta, Senior Manager Global Medical Affairs Pain at Bayer Consumer Health, regarding the diverse product range.
 
In addition to continuous research on additional dosage forms and potential active ingredient combinations, such as with vitamin C (website in German), scientists at Bayer are increasingly focusing on sustainability for drug products. "With our next generation of Aspirin, introduced in 2014, we have not only improved the efficacy – our product now acts faster than ever – but we have also developed innovative packaging," explains Kirsten Ruhl, Aspirin marketing expert at Bayer Vital in Germany, highlighting one of many recent advances. "We are focusing on sustainable packaging materials in our ongoing development efforts. For example, we wanted to break away from the outdated use of aluminum foil with our shamrock blister package, which has been available in Germany and other countries for the past few years. Our tablets are still protected in the new packaging, but the blister pack can now be recycled after taking the tablets."
 
These are just some of the reasons to celebrate the classic Bayer product and its active ingredient.
Links
Read more about the discovery of ASA and how it works.