Brochures
From Molecules to Medicine
Bayer invests considerable resources in the research and development of new drugs, with the aim of improving patients' quality of life and prolonging lives. We focus on therapeutic areas with a high unmet medical need, areas that require further innovation despite the progress that has been made – as for example in cancer therapy.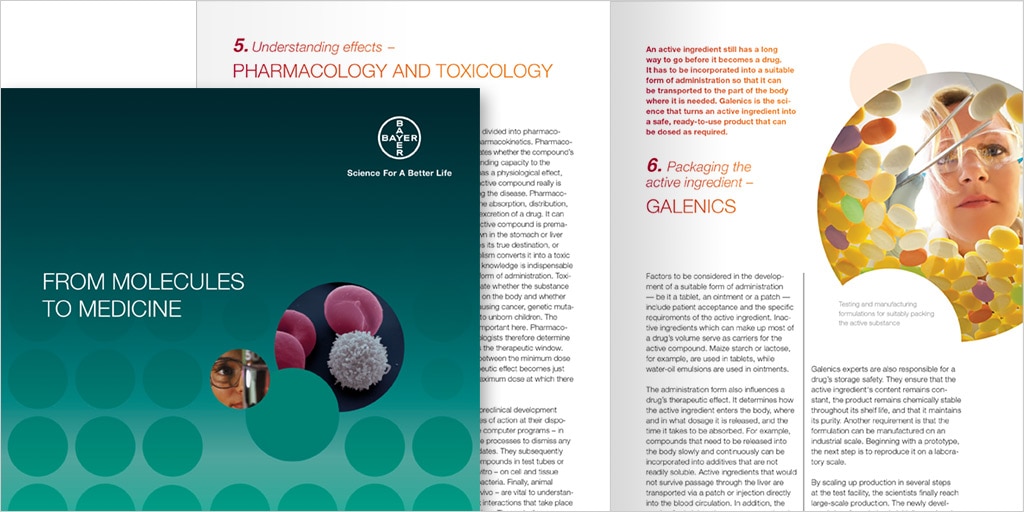 It takes about ten to twelve years to develop a new drug. During this time, highly qualified scientists from a variety of disciplines work on filtering out a suitable active ingredient from an enormous number of compounds. Between 5,000 and 10,000 compounds are rigorously studied in numerous laboratory tests and the best ones further optimized. Out of four or five drug candidates that are then tested on humans in clinical studies often only one substance is approved and becomes available to physicians and patients. Cooperation in interdepartmental, multidisciplinary teams is an important requirement for success in the complex process of drug development.
With this brochure, we cordially invite you to join us on a tour through our research departments to gain an insight into the work of our scientists. In ten chapters you can follow a new drug as it develops from a molecule to a medicine.