Research & Innovation
Research for Medical Progress for the Benefit of the Patient
Bayer is the only global company simultaneously researching improvements in human, animal and plant health. Systematic and intensive collaboration among researchers beyond their original specialization is providing new impetus. From world-renowned pharmaceutical products to high-tech platforms, from innovative diagnostics technologies to veterinary medicines – Bayer lives an innovation culture across national borders and areas of research.
Research Areas at Bayer
Pharmaceuticals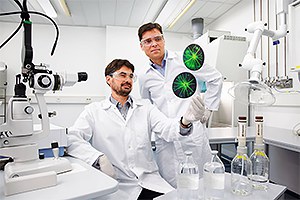 Our division Pharmaceuticals focuses on indications with high medical need in the areas of cardiovascular disease, oncology, gynecology, ophthalmology and hematology. We conduct research and development activities at several locations, mainly in Germany, the United States, Japan, China, Finland and Norway.
2018, we were able to transfer five new molecular entities from our research pipeline into preclinical development. We define a new molecular entity (NME) as a new chemical or biological substance that has not been in development to date. In preclinical trials these substances are examined further in various models with respect to their suitability for clinical trials and the associated "first-in-man" studies.
In 2018, we conducted clinical trials with several drug candidates from our research and development pipeline. We strengthened products that were already on the market through additional development activities to further improve their application and / or expand their spectrum of indications.
Clinical trials are an essential tool for determining the efficacy and safety of new drugs before they can be used to diagnose or treat diseases. The benefits and risks of new medicinal products must always be scientifically proven and well documented. All clinical trials at Bayer satisfy strict international guidelines and quality standards, as well as the respective applicable national laws and standards.
Examples of Pharmaceuticals' Recent Filings & Approvals: 
Consumer Health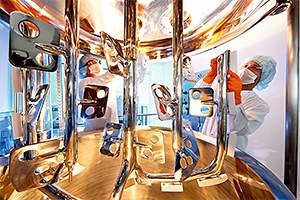 AT Consumer Health, we concentrate on developing new nonprescription (OTC) products and solutions that improve the health and well-being of consumers in the areas of pain relief, dermatology, dietary supplements, digestive health, allergy relief and cold symptoms, as well as foot care. The focus lies on product developments that are aligned to the desires and needs of consumers. Our innovations range from new product formulations and packaging to technical applications and medical devices. In 2018, we developed around 40 new consumer validated concepts, significantly exceeding our plans for the year. Consumer Health maintains a global network of research and development facilities, with sites in the United States, France, Germany and China. Another important part of our strategy is transferring current prescription medicines that are suitable for self-care to OTC status (Rx-to-OTC switches).