2013 – 150 Years of Bayer
A Party All Over the World
Downloads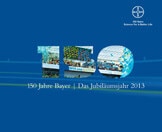 You can find all Highlights in the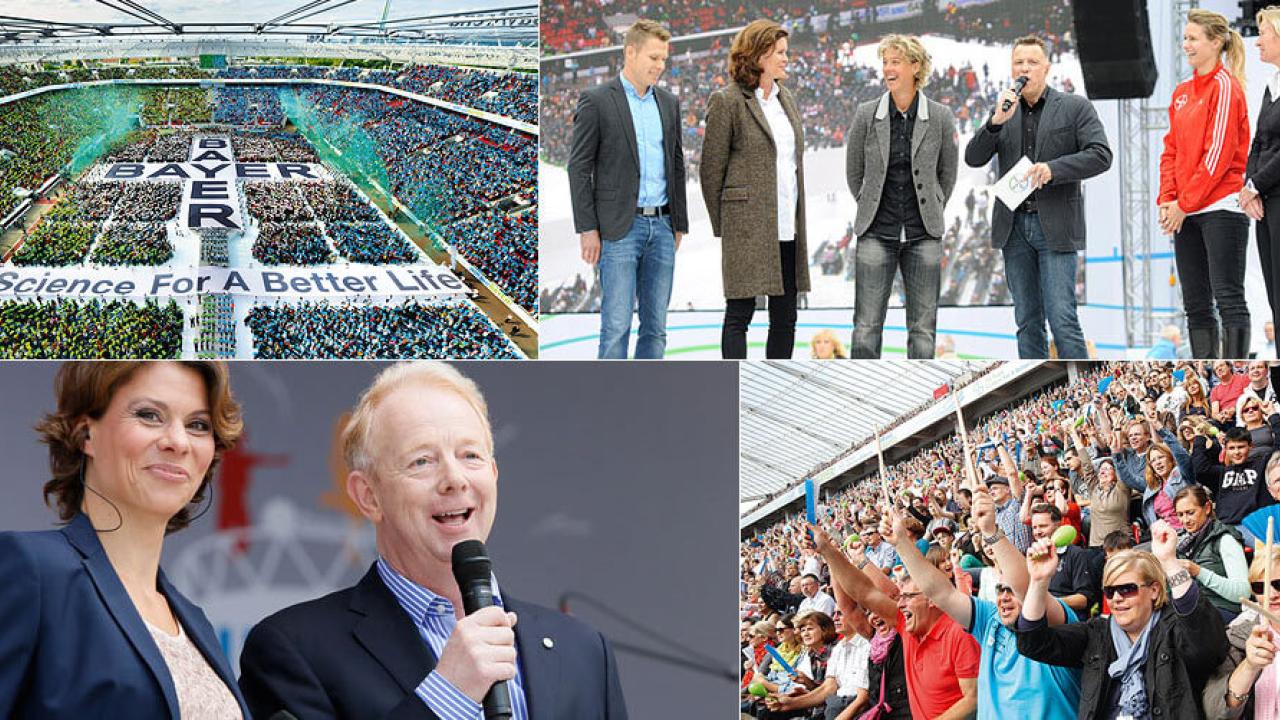 Around 30,000 guests celebrated the company's 150th anniversary together in the BayArena stadium. Employees, family members and retirees traveled to Leverkusen from all over Germany – and fired up the party mood right from the start. In high spirits, the participants celebrated a glittering party with a top-class program and about 1,500 volunteers from Bayer's athletic and cultural associations, who turned the celebration into a unique event with some great choreographies.

The climax of the afternoon event held to celebrate Bayer's foundation 150 years ago was when more than 30,000 people formed the largest-ever human Bayer cross. The celebration was a 'thank you' to all employees and their families.
Impressive moments, amusing experiences, strange occurrences: Employees all over the world submitted their personal Bayer experience under the heading "My Bayer Story". A selection of these stories has been published in the anniversary year of 2013.
Art at work
At the "Bayer Artothek" all employees can choose art pieces for their offices and conference rooms.
"From Beckmann to Warhol. 20th and 21st century art. The Bayer Collection." This was the title of an exhibition in Berlin's Gropius-Bau from March 22 to June 9, 2013. Some 240 works by 89 artists were on display, 50,000 people with an interest in art had the opportunity to see it.
To mark the company's 150th anniversary in 2013, Bayer AG showed the most important works from its own art collection in the German capital. The exhibition "From Beckmann to Warhol – Art of the 20th and 21st centuries – the Bayer Collection" in the Martin-Gropius-Bau in Berlin featured works by major artists, including Gerhard Richter, Max Beckmann, Andy Warhol and Pablo Picasso.
With 240 key pieces selected from the 2,000 works in the Bayer Collection, the exhibition showcased the work of a total of 89 artists.
Symposium on "Science For A Better Life"
Around 380 scientists from 14 countries participated in a "Science For A Better Life" symposium in Leverkusen. The intention was to strengthen and extend Bayer's partnerships and networks with universities and research institutes.
The scientists came from over 60 universities and research institutes as well as from 15 Bayer research sites. Topics being discussed at the one-and-a-half day event included results from cardiovascular research into thrombosis and pulmonary hypertension in addition to therapies for cancer.

Another focus has been on new strategies in agriculture for more efficient plants and seeds with improved traits. Also under discussion were new concepts for industrial light-guiding and lightweight materials for industrial applications.